Your Handbook to Writing an Amazing Mobile App RFP – Appinventiv
Enlighten our tech experts about your breakthrough idea in an intensive session. We characterise your product idea and define the Scope of work.
We elicit business needs, study the competitive landscape, perform strategic analysis, and provide bespoke solutions.
Define your product strategy, prioritize features and visualize the end results with our strategic Discovery workshops. Validate assumptions with real users and find answers to most pressing concerns with Design Sprint.
Seamlessly integrate branding, functionality, usability and accessibility into your product. We enhance user interaction and deliver experiences that are meaningful and delightful.
We enhance usability and craft designs that are unconventional and intuitively guides users into a splendid visual journey.
Identify usability issues, discuss UX improvements, and radically improve your digital product with our UX review sessions.
Make your app robust and secure. We provide pre-launch support and post- release maintenance to enhance your app's productivity.
We seamlessly integrate continuous development, testing and deployment to release quality solutions quickly.
We outline low-budget innovative strategies, identify channels for rapid customer acquisition and scale businesses to new heights.
We validate early and iterate often. From ideation to launch, we follow a holistic approach to full-cycle product development.
We are early adopters of disruptive technologies. Unravel unique insights on our technological know-how and thought leadership.
Request For Proposal is a significant part of the starting of any mobile app development journey. The proposal written by businesses who wish to get an app built states all the important information, requirements and necessary details of the contract.
Businesses write mobile app proposals when they are looking for long term, custom made solutions that will help them achieve their goals. Going through an RFP process means that the business is looking at the app development process for its long term benefits.
Appinventiv has seen many requests for proposal over the years and knows well how a perfect one is written. We respond to RFPs on a regular basis and also help our clients with the RFP process so that they are able to define their projects better.
To make the knowledge of drafting the best RFP a common language, it was only about time that we shared a template for everyone who wishes to start the process of their mobile app development journey on a sound note. And so, we have prepared an RFP template for entrepreneurs for you to pass your requirement to the app development agencies with utmost clarity.
But before we move on to the mobile app RFP 2019 best practices, let's first go through some terminologies associated with the procedure.
An RFP or request for proposal represents a company in front of its potential collaborators.
Basically, RFP for mobile application development is a document that outlines all the necessary requirements for a specific project. This is a mobile app business plan doc that identifies the most qualified developer for the project.
There are certain terms that sound close to RFP and are often misunderstood. Terminologies like: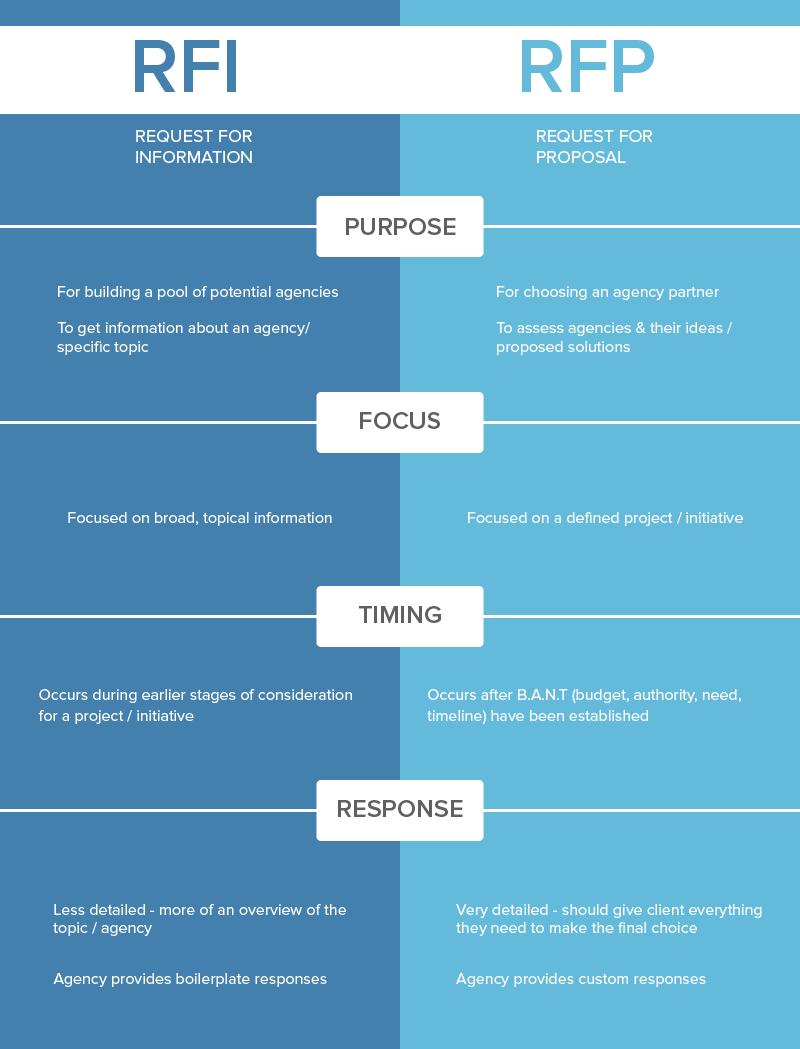 RFI – stands for Request for Information. RFI is used to gather information from various sources but there are no intentions of making any proposal. This is solely used to gather necessary information which may be used in the RFP process later on.
RFQ – stands for Request for Quote. This is used to get the pricing information, delivery and supply policies from the seller. Businesses send an RFQ to developers asking about the final pricing and other details of the deal.
These three are the terms that are often used during the proposal of a document for any project.
Now that we have attended to the Whats of RFP and what are the concept's similar terminologies, it is only normal for one to wonder, why is the business plan for mobile app concept so important? The answer is in the next segment.



Before we move on to the mobile app RFP template, we need to see why is it so important to write a good RFP for your app development. For one, the proposal helps in conveying all the necessary requirements a business has. And two, finding the right app developer that meets those requirements and qualifies to carry out the project.
RFP process takes a lot of effort and time so only two reasons cannot be enough for its necessity. Following points will give you some more solid reasons why good RFP should be written for your mobile app.
An RFP helps your business in stating the requirements in an organized and detailed manner. The RFP template should be designed such that it holds space for all the information to be noted down. When these documents reach the app developers, they know exactly what the business wants. A better approach is made by the developer and the business when both know what the exact project is about.
When an app development company responds to the RFP of any business then these responses can be used for comparison. The comparison then gives an idea of the right app developer. The pricing, skills, time of completion and other additional information are used for comparison. Choosing the right fit is important as mobile app development process is one that costs both money and time.
When comparing different responses, businesses are also able to analyze the return on investment from various app developers. It also helps in comparing the advantages that a business will be getting from different developers. It's always better to have options so that the fittest one can be chosen.
These were some compelling reasons to write a solid RFP for your mobile app development. Let's now move on to the most awaited segment that answers the question 'How to write mobile app RFP?'.
Following is the sample of mobile app RFP template for writing a proper Request For Proposal:
This is the section filled by the issuers or the business. Each business has a different purpose and therefore the templates may differ. The business should state the necessary information related to the purpose of building the project here. It should also contain details that would convince why an app development company or a single developer should respond to the RFP. Often the purpose and app strategy are not known to businesses so it's important to learn those. Following pointers must be included in this section of the RFP: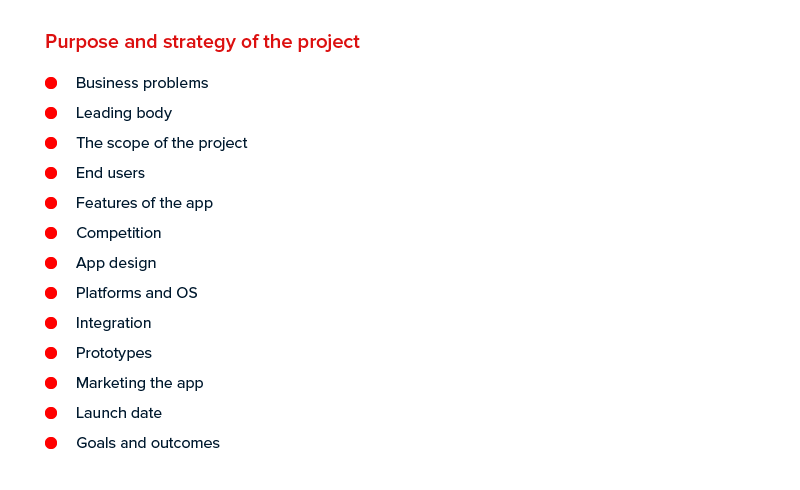 This section is designed by the business and has to be duly filled by the responding party. It consists of questions that analyze the capabilities of the agency. The main goal of the issuing business is to find out which companies match the requirements for app development. The questions are designed such that they help to issue businesses gather all information for comparison between different development agencies.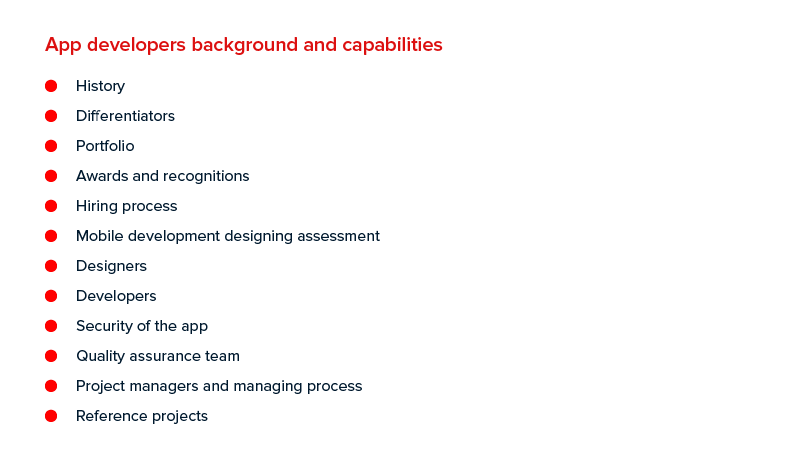 This was all about the practices to write RFP for mobile app development. Contact our app developers' team at Appinventiv for further details.
B 25, Sector 58, Noida-
201301, Delhi –
NCR, India
79, Madison Ave
Manhattan, NY 10001,
USA
Suite 87, Level 35, 100
Barangaroo Avenue
Sydney, NSW 2000, Australia
Empire Heights,
Business Bay, Dubai,
UAE
Full stack mobile (iOS, Android) and web app
design and development agency
Appinventiv is the Registered Name of Appinventiv Technologies Pvt. Ltd., a mobile app development company situated in Noida, U.P. India at the street address – B- 25, Sector 58, Noida, U.P. 201301.
All the personal information that you submit on the website – (Name, Email, Phone and Project Details) will not be sold, shared or rented to others. Our sales team or the team of mobile app developers only use this information to send updates about our company and projects or contact you if requested or find it necessary. You may opt out of receiving our communication by dropping us an email on – info@appinventiv.com
Please fill the form below.
For sales queries, call us at:
If you've got powerful skills, we'll pay your bills. Contact our HR at: